Scale to 1 Million Virtual Users on SAP CRM
By: Matt Angerer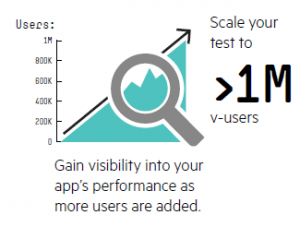 In a recent blog article entitled, "Building an SAP Testing Center of Excellence," we provided you with a roadmap of how to build an automation framework and a center of excellence (CoE) for your SAP testing and quality assurance needs. The article chiefly focused on the regression testing aspects of your SAP Testing Center of Excellence. Taking it a few steps further, we wanted to introduce you to the benefit of using HPE StormRunner for your SAP performance stress testing needs.
With StormRunner, you could start executing performance, load, and soak testing over SAP CRM in less than 10 minutes. Designed with simplicity in mind, StormRunner is the perfect addition to your SAP Testing toolbox. Your developers will no longer be at the mercy of the Performance Test Engineers. They can run the tests themselves, from the cloud, throughout the course of each sprint cycle. This helps to accelerate the velocity of your project and the overall quality of the updates you're releasing within SAP CRM.
As you scale the number of virtual users in the cloud on SAP CRM, StormRunner intelligently captures valuable metrics on how SAP CRM behaves under different virtual user loads. With over 20 different analytic charts and graphs, it helps you quickly find performance issues.  Purchasing "Virtual User Hours" (VUHs) enables you to drink from the fountain when you choose to do so. This helps your organization drive down the Total Cost of Ownership (TCO) by eliminating wasted time and energy focused on managing the testing infrastructure itself.
ResultsPositive, an HPE Platinum Partner, employs experienced SAP Performance Testing Engineers with all of the tools HPE has to offer at their disposal. We can help you leverage your existing VuGen scripts to create powerful SAP CRM performance testing scenarios, or even help you explore the use of TruAPI as a method to build scripts that can be kicked off at a moment's notice within HPE StormRunner. Contact us today for a complimentary demo of how StormRunner works and see how it can be used in your SAP CRM testing landscape today.
Subscribe for the latest RP Blog Updates: