Are the Rumors True? LeanFT is Free of Charge for UFT Customers?
By: Matt Angerer
If you recall, HP announced the upcoming release of LeanFT at HP Discover in June. If this is the first time you've heard about LeanFT, take a moment to download our data sheet on the product. What you will quickly notice is that HP designed this product specifically for continuous testing and continuous integration. If you're a traditional blackbox manual tester who spends your time combing over the GUI of an application, then LeanFT may not be for you. You can probably stop reading at this point and get back to work. But, if you're what we often call a "DevTester," then you might want to check things out and download the 30 day free trial of LeanFT.
If your organization is using Unified Functional Testing (UFT) for automated testing, LeanFT is provided free of charge. But before your DevTesters start exploring LeanFT, we think it's important to take a few steps back and show you the forest through the trees. Understanding the big picture of Functional Test Automation gives everyone an idea of where they fit in the continuum of quality. LeanFT sits on the far left of the diagram below. It's a product that is interwoven into the IDE (e.g., Visual Studio, Eclipse, IntelliJ). Moving to the right of the diagram, notice how the roles shift from technical to technofunctional, to straight functional (SMEs).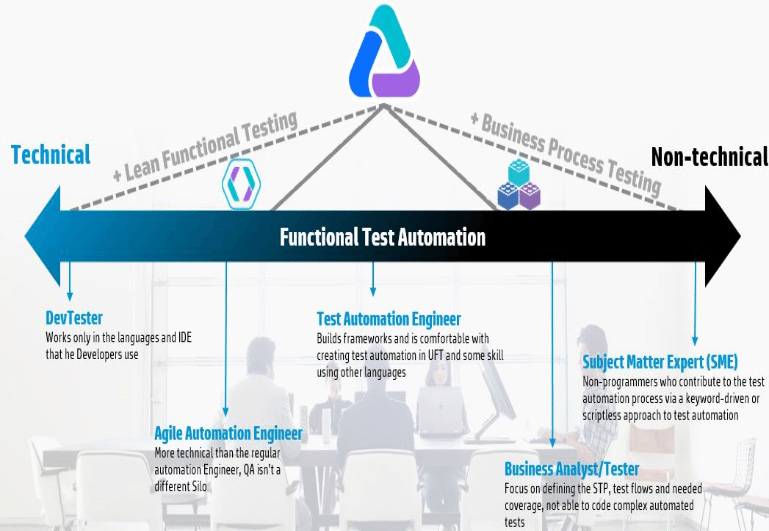 Smack dab in the middle is the Test Automation Engineer, who typically works within a QA team or is embedded within a delivery team as a subcontractor. It really all depends on your organizational goals when it comes to Quality Assurance. HP UFT is likely your Test Automation Engineer's tool of choice to build automation frameworks. Deep knowledge of programming languages really isn't required.
In an upcoming Webinar, hosted by Joey Howe of ResultsPositive, we'll explore how UFT can be used for API testing. We'll also explore the latest enhancements of v12.5, including:
Usability Improvements: It's a fresh new look and feel. Joey will walk you through the ability to add a function library as a solution item. You can even view test run results in a lightweight, summarized HTML report – without an extra installation. Additionally, root cause analysis has been simplified, which all leads to a less stressful experience for your Test Automation Engineers. Less stress = Happier QA Team.
Mobile Testing Enhancements: In v12.5, the mobile testing add-in now includes the ability to spy on an object in a mobile application. Now you also have the ability from UFT to highlight objects in your mobile apps, and run and record a single test on multiple mobile applications at the same time – pretty sweet, huh? If you recall, HP Sprinter allows you to run a single test on multiple configurations through what HP dubbed as 'mirroring'. Talk about a time saver!! Joey will give some highlights to these enhancements in his Webinar on October 27th at Noon EST, but Angel Tran of ResultsPositive will be talking about this in-depth on October 29th in his Webinar entitled: Automate Critical Mobile App Testing with Mobile Center and UFT. Both Webinars are free to attend and provide you with a wealth of information that you can take back to your organization!
Business Process Testing Capabilities: HP also introduced a few enhancements in this area too. The canvas and grid view can now be used to organize your tests – including those API tests that Joey will show you how to create. You can even create an end-to-end scenario to record a full business process test.
Lastly, HP UFT v12.5 also supports continuous source control integration with both SubVersion and GIT. It's a big time saver, allowing you to work with your tests from where you like with UFT. If you would like a personalized demo of UFT v12.5 or LeanFT, don't hesitate to reach out to ResultsPositive.
Otherwise, we look forward to seeing you on October 27th and the 29th!
Subscribe for the latest RP Blog Updates: