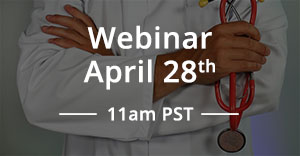 Enhance Healthcare Services and Outcomes with ServiceNow in 2020
Please Note: Event recently rescheduled from 3/24 to 4/28.
Please join ServiceNow and ResultsPositive for an educational healthcare webinar and roundtable discussion on current healthcare trends, recent challenges, patient care management, and digital imperatives.
Our executive presenters will be discussing and reviewing current and unplanned healthcare challenges, common customer outcomes, and patient care practices, work and technology management opportunities.
Review Current Challenges Facing Healthcare Today:
Patient and Donor Care, Security and Risk, Customer Experience
Digital Transformation, Shared Services, Demand & Investment Mgmt.
Diseases, COVID-19 Virus, Privacy & Data Breaches
Government Program Reimbursement, Regulatory Changes
Learn to Balance Challenges, Daily Operations, and Service Improvements:
How to accelerate digitization initiatives while maintaining operations.
How to invest in new/updated capabilities today for long-term market leadership.
How to enhance and streamline service delivery capabilities.
How to streamline, automate, and manage work effectively.
More About our Presenters:
Jon Furner, CEO of ResultsPositive Business Technology Solutions, will present this webinar. Jon is a 20+ year veteran of the Business Technology service industry with a wealth of experience planning, implementing, and managing complex digital initiatives. He has advised and worked with many Fortune 1000 customers on their Business Management initiatives.
Drew Koerner, the Healthcare CTO at ServiceNow, will present this event. Drew has been in the IT industry over 20 years, with direct experience in Healthcare innovation for over a decade. He provides transformational and innovative customer-centric solutions as a trusted advisor of healthcare clients. 
Jeremy Knudson, the Business Management Practice Lead at ServiceNow, will present this event. Jeremy is a 12+ year veteran of the IT industry, with experience helping customers understand and optimize how to manage work and what matters for end to end lifecycle delivery for both IT Business Management and Service Management while showcasing the cost, quality, and value of service delivery.
Jesse Law, the Customer Service Management Practice Lead at ServiceNow, will present this event. Jesse is an experienced account executive helping organizations implement transformative solutions with ServiceNow for nearly a decade. 

Registrants will be contacted via email with event details. See below for more information, and be sure to contact ResultsPositive with any of your project and resource management questions.